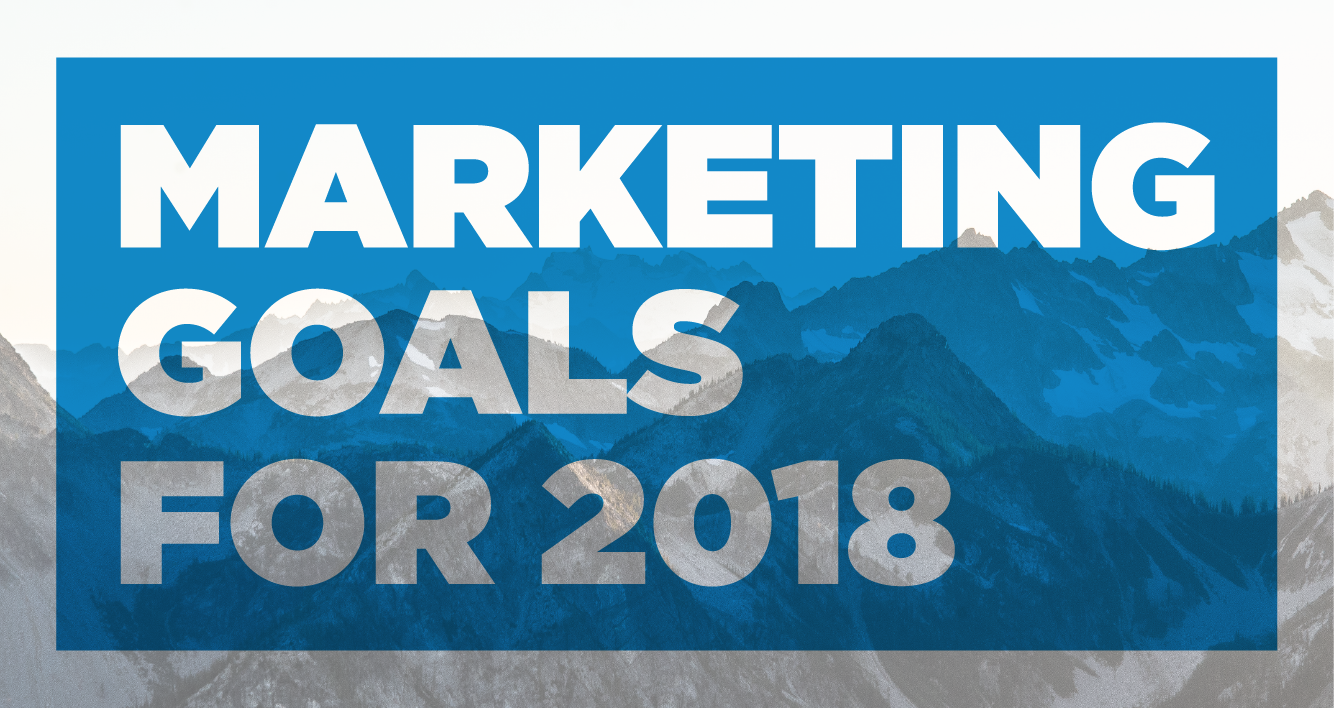 Everybody else is doing it, so why shouldn't we? It's the time of year for resolutions. And even though research shows that most people don't keep the resolutions they make each January, we believe there's still value in assessing where your real estate business has been, where it is now, and where you want it to go.
If you prefer not to make resolutions, perhaps you can think of them as goals, or areas for continuous improvement. However you conceptualize it, if you've decided that 2018 is your year to knock marketing out of the park, here are some resolutions to consider.
Be Strategic
Make up your mind not to fly by the seat of your pants this year. Make an actual marketing plan, even if it's just a simple blocking chart (google "blocking chart for marketing" for templates) or some notes and tasks in your favorite list app.
If you've never made a marketing plan before, you'll need to take a step back. Pull any data you have on previous marketing efforts (social media reach and engagement, views of landing pages, time on market, etc.) and assess what's working and what's not.
Not sure how to tell if the numbers are good or bad? Check yourself against benchmarks. For instance, use Realtor.com's data center to see how your time-on-market compares to the average for your area. Or compare your email stats and Facebook ads to industry norms.
Once you've assessed past performance, you can make some "start/stop/stay" decisions. These are choices about what you need to start doing, what you need to stop doing, and where you need to stay the course to achieve the results you want.
Allocate a Budget
While there are plenty of free ways to market your listings (hello, social media!), it's virtually impossible to build a successful real estate marketing plan without spending something.
At minimum, you need to budget for professional photos for your listings. If you can afford it, video or 3D is a good addition – it will make a measurable difference in how quickly your listings sell and for how much money. Your next spending priority should be digital advertising: we recommend affordable, highly targeted ads through Facebook or Adwerx.
And don't forget to budget for non-listing marketing. This would include projects like refreshing your website, getting new headshots done, or shooting a custom community or bio video.
It can be hard to shell out money for marketing, but keep in mind that smart marketing spend more than pays for itself.
Learn Something New
Even a basic understanding of core marketing principles can help make your marketing more effective and increase growth for your business. So set yourself a goal of learning something new about marketing this year. Here are some of our favorite resources.
Books (find on Amazon or at your favorite bookstore)
Scott Stratten and Alison Stratten, UnMarketing, UnSelling, or UnBranding
Seth Godin, Purple Cow or Permission Marketing
Seth Price and Barry Feldman, The Road to Recognition
Blogs
Podcasts: anything from Scott Stratten, Seth Godin, or Jay Baer
(Got your own favorite resources for learning about marketing? Share in the comments!)
Do Something New
Learning something new doesn't help if you don't put it into practice. There are a couple of ways to approach this. One option is to take the new information you've learned and apply it to what you're already doing. Change the way you lay out your emails, update the messaging on your website, or do more to link your different channels together.
Another approach is to try a completely new marketing platform or tool. If you've never gone beyond photos for your listings, give video or 3D a try. Or if you've always posted your listings on your Facebook page but never actually run an ad, try a boosted post.
Market Every Listing
Like the Duchess of Cambridge's wardrobe, the average agent's listing roster is made up of a mix of high and low. It's tempting to focus all your marketing on the high-end listings, but that would be a mistake.
If your usual marketing MO is to drop your low-end listings into the MLS and walk away, resolve to do things differently this year. We're not saying you should spend the same amount of time and money on all your listings, but set a minimum bar that you hit every time. We recommend professional photos and a weekly Facebook post, but some agents set the bar even higher.
This is about more than branding your listings – it's about branding yourself. When you become the agent who professionally markets every listing, sellers will take notice. Put another way, activity breeds activity. People will be more likely to list their home with you if they know it will get proper attention.
Have you created a 2018 marketing plan yet? What are the highlights?