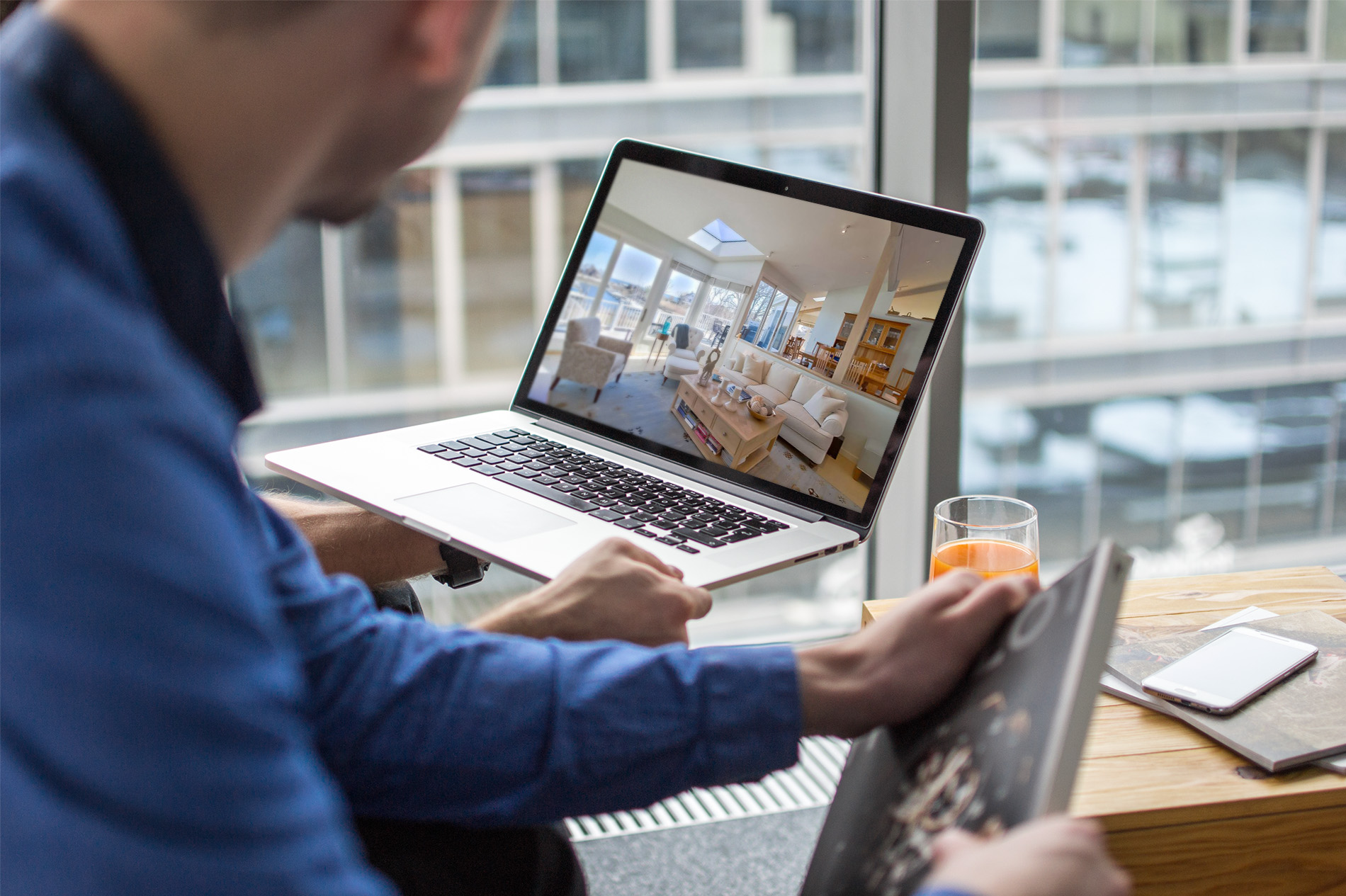 This month, we're sharing posts to help you power up your marketing and your business – or, as we like to say, to help you be a "powerHouseLens" agent!
The listing presentation: it's a cornerstone of any good agent's MO. After all, you'll never earn a commission check if you don't win the listings in the first place!
Agents often dedicate a significant portion of the listing presentation to explaining how they'll market the home. This is where you can really use visual marketing to up your game. Prospective sellers are more likely to list with an agent who uses professional visual marketing – in fact, our clients see as much as a 5x increase in their listing conversions when they make HouseLens visual marketing part of their presentation.
If you want to power up your listing presentation with visual marketing, here's how to make the biggest impact.
Pick the Right Platform
Binders and booklets full of flyers are cumbersome, expensive to produce, and prone to wear and tear. Plus, they're old-fashioned and can't be used to show video or interactive 3D. So come into the 21st century and discard your listing book in favor of an electronic listing presentation!
You can build your presentation in standard software, such as PowerPoint, or use a tool designed specifically for real estate agents. Ingage, listing presentation software for iPads, is one example. Placester has an extensive list of tools that can be used either to prepare your presentation, or for the presentation itself. Whatever you choose, make sure it accommodates video or 3D and will still function offline – if you're giving your presentation at a client's home or in a public place, you might not be able to access the Internet.
Make it Relevant
Particularly if you use an electronic listing presentation, it's easy to create different versions to appeal to different sellers. On the visual marketing side, you can make each listing presentation more relevant by incorporating content from homes that are similar to the seller's home. This will help show the seller that you have experience marketing their type of property. Also make sure to show the seller the appropriate types of content. For instance, if you plan to use 3D to market their home, show them a 3D model, not just photos. A real-life example is always more effective.
Get Creative
Again, this is where an electronic listing presentation is helpful – when your presentation is based on software and visual marketing, it's much easier to engage your audience.
For starters, don't just include visual content in the marketing portion. Use it throughout your presentation. Include screen captures of Facebook posts showing happy closings, short behind-the-scenes videos from your workday or brokerage, or photos of your office and team. For your marketing information, tap into the power of VR if you plan to use 3D to market the property. Bring along an inexpensive Google Cardboard headset so sellers can experience the technology to its fullest extent.
Practice, Practice, Practice
Real estate agents are notorious for their gift of gab. You may find it incredibly easy to strike up friendly conversations with strangers, or to put nervous buyers or sellers at ease as they navigate an emotionally-charged transaction. Still, don't underestimate the benefit of practice.
Especially if you are using a new platform or like to change up your presentation content to suit the potential client (as you should), take some time before the presentation to do a quick run-through. Get your teenager, spouse, or a friend to be your audience and offer feedback, if possible. If you feel comfortable with the contents of your presentation, you're much more likely to come across as your natural, friendly, professional self and win that listing!
Do you use visual marketing in your listing presentation? What are your top tips to make it successful?