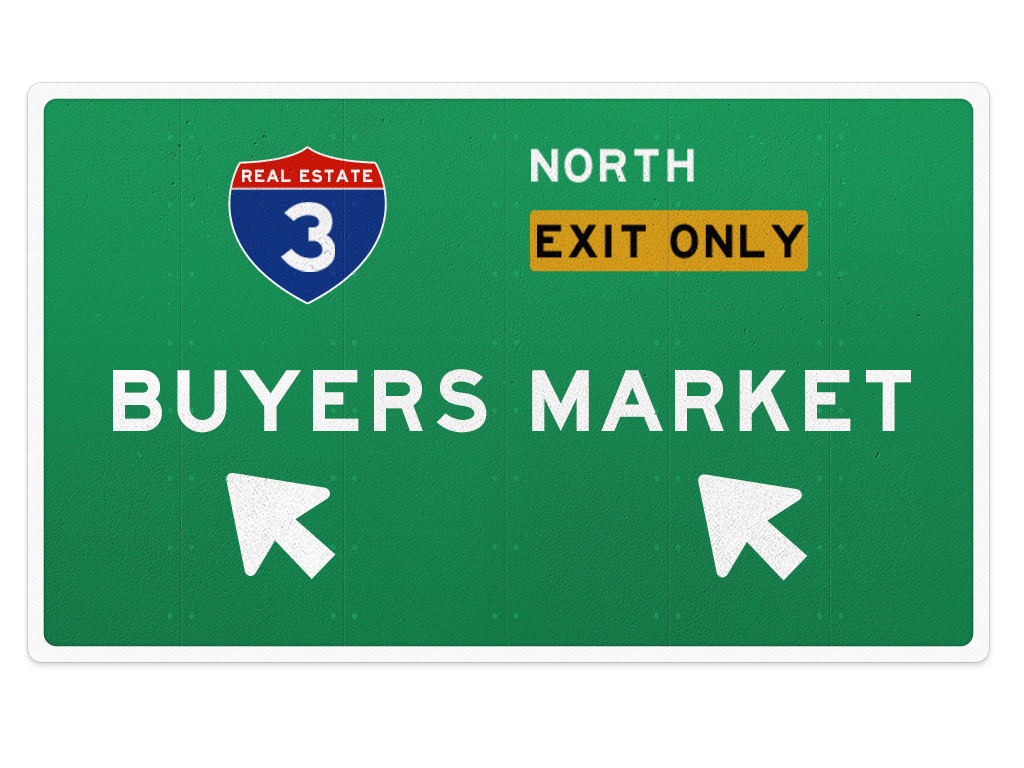 The real estate industry is quickly coming to agreement: a buyer's market is on the way. In recent months, numerous industry behemoths (including the National Association of Realtors, CoreLogic, Zillow, Redfin, HousingWire, and Inman) have reported small but meaningful reversals in longtime seller-friendly trends.
These changes include:
Watch for the Shift to a Buyer's Market
Industry members often refer to real estate as a cyclical industry: over time, seller's markets tend to correct into buyer's markets, which correct into seller's markets, and so on. This cyclical pattern is, in part, a reflection of the way industry trends feed on each other. Inventory levels affect prices, which affect actual sales, which affect prices. The latter two affect potential sellers' decisions to list, which affect inventory – and so we go back to the beginning of the chain reaction.
In all this change, one key data point is currently holding steady. Time on market remains low across the country, meaning that buyer competition for individual properties is still stiff. If inventory continues to rise, however, time on market will eventually rise with it. And in our experience, when average time on market tops 50-60 days, control moves into buyers' hands.
A full-blown buyer's market may still be a few years away, but the current changes are already making an impact. The tipping point is no longer beyond the horizon – it's squarely in view.
Which begs the question: are you ready?
Build Your Brand Now to Own the Buyer's Market Later
The increased inventory of a buyer's market comes with a boon: more listings to go around. But if you want to win those listings as they come on the market, you need a strong brand. More than that, your brand needs to appeal to Millennials, who are currently the largest buyer cohort and likely to remain so for the foreseeable future.
Millennials do find agents by referral from family or friends, but they are also more likely than other cohorts to find agents via online search. In addition, they tend to use online research to vet any recommendations. That means you need to be findable online, and your online presence must be compelling.
Building online visibility takes time. If you wait until the inventory wave is here, you'll be too late to ride it. Start improving your online presence now by taking a few key steps:
Avoid the Seller Concessions of a Buyer's Market
On the downside, a buyer's market means pressure on sellers and their agents to make concessions. Buyers will expect price reductions, seller-funded repairs, assistance with closing costs, and/or lower commissions.
You may not be able to escape these concessions completely, but you can certainly minimize them. How? By making your listings as appealing as possible to buyers. Experienced agents know that homebuying is a highly emotional process. Buyers who become attached to a home will work hard to get it, regardless of whether they're actually competing with anyone for the purchase.
Extensive research proves that quality visual marketing has a dramatic effect on buyer interest. Professional photos, video, and 3D increase buyer engagement, help qualify buyer leads, and make buyers more likely to pay list price for a home. Staging has a similar effect, so plan to add this tool to your kit if you aren't already using it.
Protect Your Income From the Impact of a Buyer's Market
Lower income is another potential drawback of a buyer's market. If you're one of the 90% of agents who works on commission, the reduced selling prices of a buyer's market will directly affect your paycheck.
You can combat income reduction two ways: represent more transaction sides, or participate in higher-value transactions. Either way, you may have to put in longer hours to maintain your income. More sides mean more longer to-do lists, and clients who buy or sell higher-value homes tend to be higher-maintenance.
On the seller side, however, you can combat the drain on your time by using quality visuals to market your listings. The qualifying effect of professional photos, video, and 3D reduces your hands-on time with leads. The price boost from quality visuals can help you maintain your income without increasing your volume of work. Even if you have to shoulder more listings, you may be able to fit them into the same work time, thanks to visual marketing's tendency to make homes sell faster. Finally, the cachet of professional visual marketing can elevate your brand, so that you're more likely to win high-dollar listings.
Hopefully, you haven't allowed the extended seller's market to lull you into coasting through your workdays. But even if you've let your marketing game get weak, it's not too late to rebuild your brand. Pay attention to the signs, start preparing now for a buyer's market, and you'll position yourself for success as the shift occurs.