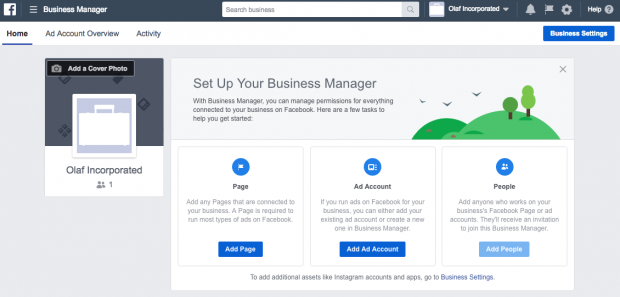 Social media is a crucial tool for marketing both your listings and your personal brand – but it comes with its own set of challenges. Aside from the time investment required, you have to stay on top of the myriad changes social media platforms are always making.
We know social media is one of our customers' favorite places to use HouseLens content, so we're here to help. Keep reading to learn about major social media updates happening this winter. (Need to catch up on past changes? Read our summer post on this topic.)
Facebook
Facebook Business Manager was first introduced to a small group of users in 2014. It gradually rolled out to all users and is now available Facebook-wide. Business Manager lets you manage multiple pages or ad accounts at once. It also allows you to set up a team of people to manage your Facebook page(s) or ad account(s). In addition, it includes features (such as better analytics) that are not available when you manage a page or ad account directly.
Even if you manage only one Facebook page or ad account by yourself, you may still need Business Manager. This is because Facebook recently made custom audiences from customer lists available only through Business Manager. Custom audiences from customer lists are a favorite of real estate agents. Simply upload a spreadsheet of your contacts, and you have a ready-made, targeted ad audience.
If you previously created custom-audience campaigns under your personal ad account, those campaigns will still be visible. However, you won't be able to edit those campaigns or create any new ones using the associated custom audiences. Instead, you will need to set up new custom-audience campaigns through business manager. Don't worry: it's a pretty quick process. If you need help, we recommend HubSpot's step-by-step guide.
Twitter
Twitter currently suffers from a significant reputation problem, thanks to its out-of-control bot infestation. The network is also a haven for "fake news," trolls, and bullies. Diehard fans, however, continue to find value in Twitter.
If you're one of that group, you'll be happy to learn that Twitter is trying to improve the quality (and reality) of connections on the platform. They recently announced a series of  changes intended to support this goal. These changes will start small, but Twitter CEO Jack Dorsey promises they'll add up to something big.
First on the list: profile updates. Over the next several weeks, expect to see design changes that de-emphasize bare numbers. Follower counts, mutual followers, join dates, and similar info will now appear in smaller fonts. Twitter hopes this change will (1) force bot accounts out of the shadows and (2) encourage users to focus on more meaningful information such as bios and the tweets themselves.
Your takeaway? Make sure the qualitative information on your Twitter profile is ready for the change. Upload eye-catching profile and background photos. Polish your bio to appeal to your target audience. Also make sure you're regularly sharing quality content (curated or original) so your feed doesn't look like you've been MIA since 2015.
Instagram
Unlike Twitter, Instagram doesn't currently suffer from a glut of bogus accounts. Like Twitter, however, the network is planning a redesign of user profiles. The Instagram redesign is more substantial than Twitter's. It will affect profile layouts in both the account-holder and follower views, with the goal of making the platform easier to navigate.
Instagram's updates will alter the layout and sizes of buttons, icons, and tabs at the top of the user profile. The lower portion of the profile, which displays previously posted photos and videos in a grid format, will remain unchanged. These changes will roll out gradually, with Instagram testing variations as they go. So don't be surprised if you see one layout on your own profile and a different one on someone else's.
To make the most of Instagram's updates, watch your profile and make sure all your information looks the way you want it to. You may need to update certain elements to fit better in the revised layout. If you don't like what you see, let Instagram know. They will be adjusting their changes based on user feedback.
This is also a good time to make sure you're fully using all profile elements, such as the option to curate your favorite Stories. This is an excellent way to categorize posts so that your audience can more easily find the content that is most useful to them.
Keep in mind that social media platforms are always changing, and they don't always announce these changes. So don't treat social media as a "set it and forget it" marketing tool. Stay engaged – not just for client interactions, but so that you'll be aware of changes when they happen and can adapt what you're doing to stay visible and useful.