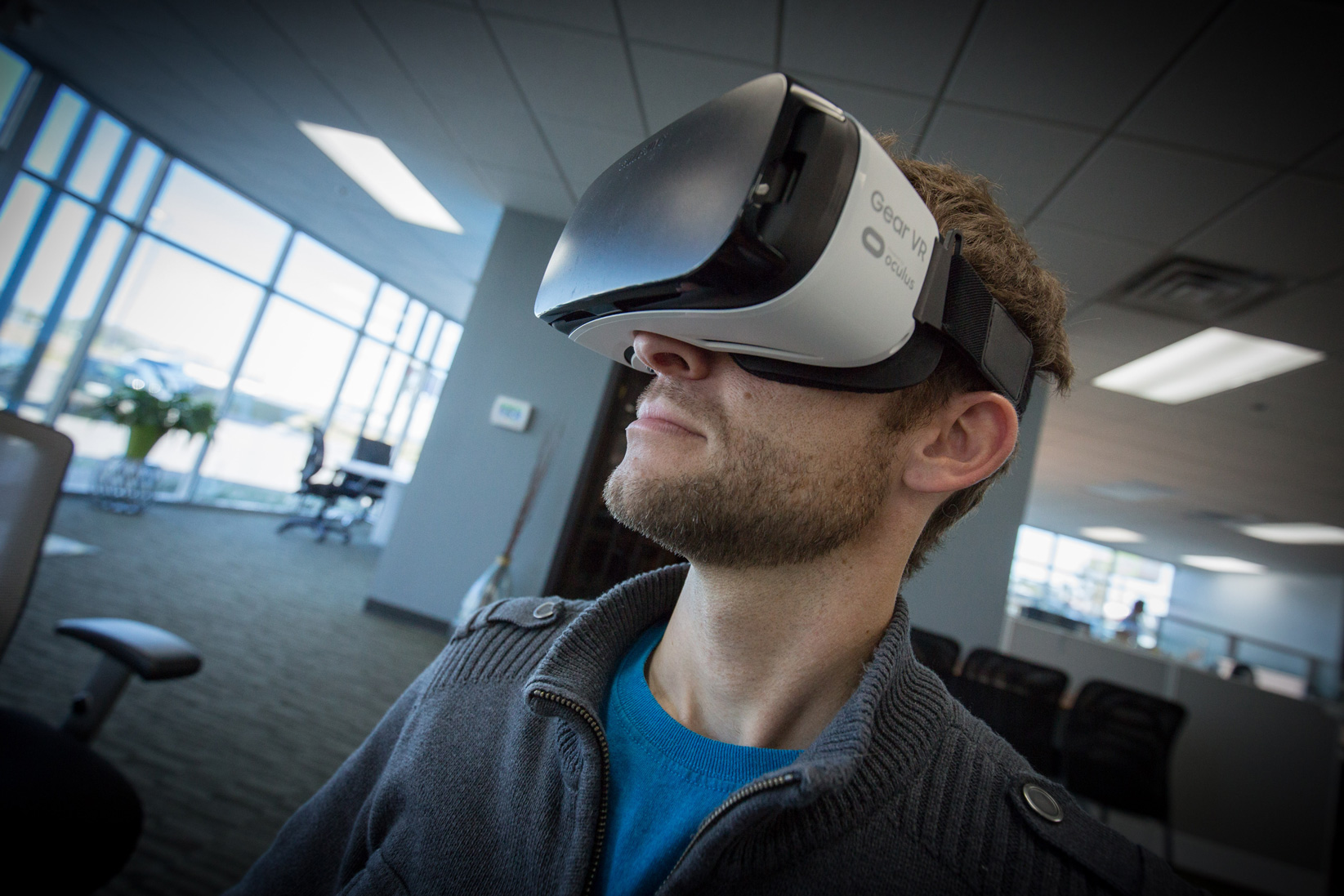 Last week, we announced that all HouseLens 3D models will now include virtual reality, or VR.
To take advantage of this new functionality, all you need is some basic VR equipment: a Samsung Gear or Google Cardboard headset, compatible Android smartphone, and the free Matterport VR app.
If you don't already have a VR headset for your real estate office, you might be wondering which one you should purchase. Both have their pros and cons. Here's a breakdown, based on our experience with them.
Samsung Gear VR Equipment
Pros
Samsung Gear is definitely the nicer of the two headset options. It's got a slick, futuristic shell and comes in either white or black. It also has thick padding and sturdy straps that give it a comfortable, hands-free fit.
From a peace-of-mind standpoint, Gear is also the better choice. It has a custom-fitted slot with clips to hold your phone securely in place. As long as you insert the phone properly, you don't have to worry about it falling to the floor from a height that would almost certainly crack the screen.
Cons
Samsung Gear comes with a higher price tag (although, at under $100, it's still very affordable). This headset is also compatible only with certain Samsung phones. So if you have a non-Samsung Android, you're out of luck.
Google Cardboard VR Equipment
Pros
Google Cardboard is inexpensive, with headsets widely available for under $15. It's also fully collapsible, so it travels well. You can literally just slip it into your pocket or even into an envelope or documents folder.
Cardboard is easier to use, as well. Just slide your phone into the slot, lift to your eyes, and go. And it's compatible with any smartphone (CoreVR is only available on Android right now).
Cons
As its name implies, Google Cardboard is made of, well, cardboard. Most manufacturers do their best to make it attractive (owl eyes are a favorite decorative motif), but it still looks cheap. It's also not as sturdy as Samsung Gear, and it won't hold your phone as securely.
Our Recommendation for VR Equipment
Given these pros and cons, the HouseLens recommendation is…buy both. Yes, really. Get a Samsung Gear for your real estate office. Set it up in a nice, comfortable room for buyers who come into your office. At the under-$100 price point, you can even buy more than one and host VR parties to make your office the neighborhood's real estate hotspot.
For your visits to buyer's homes, get a Google Cardboard. The low price means you won't stress too much if it gets damaged or lost – you can even leave it behind as a fun little gift. Imagine the "wow" factor of pulling out a VR headset to help buyers preview some listings from the comfort of their own couch.
What if you can only afford one headset, or (at the opposite end of the spectrum) you work primarily with luxury buyers? Focus on Samsung Gear. It has a more professional appearance and provides a better user experience overall. At this price point, there's no excuse not to get one!