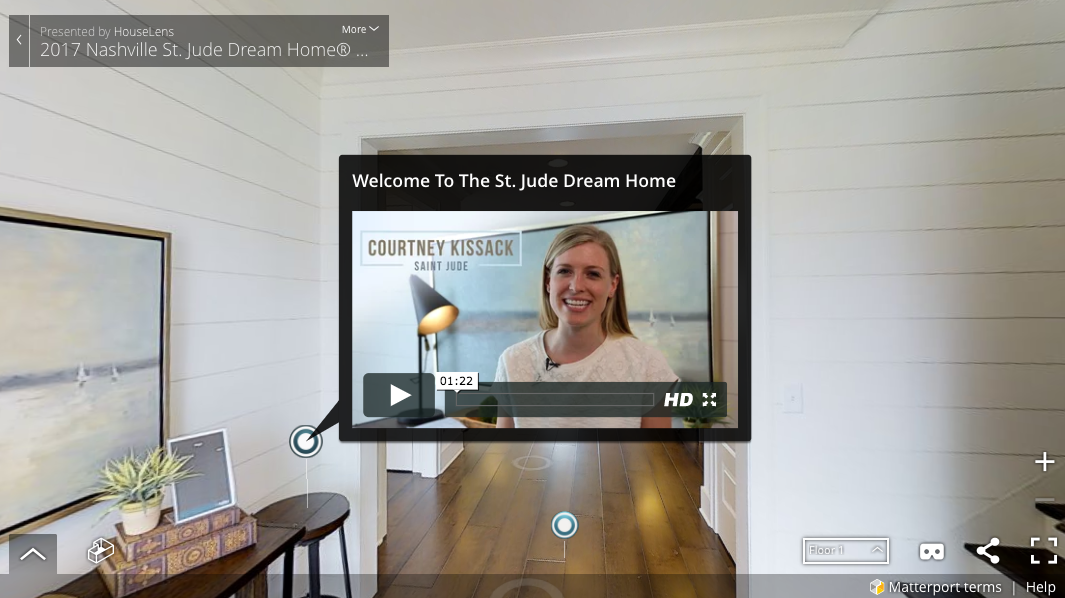 Every year, HouseLens partners with St. Jude Children's Research Hospital to help market the St. Jude Dream Home. This year, we completed the shoot at about the same time Matterport debuted their multimedia Mattertag™ posts. Shortly after, Matterport announced a contest to demonstrate creative uses of multimedia Mattertags™.
That gave us some inspiration. If any project is worthy of special touches, the St. Jude Dream Home is. So, with help from our St. Jude coordinator, we went back to the Dream Home to film videos of sponsors, St. Jude staff, and a cancer survivor whose life was saved 13 years ago at the hospital. We then set up embedded-video Mattertags™ within the 3D model we'd created of the Dream Home.
Mattertags™ aren't the only way you can use multimedia to market your listings. You can embed photos within photos, photos within video, even video within photos. There are ways to blend video, 3D, and photography into one seamless presentation, or add attractive graphics to photos or video.
As you might imagine, however, it's possible to go overboard with layered media.
If you want to harness the "wow" effect of multimedia to market your listings, but you don't want to overwhelm your viewers, try these best practices we learned while making our St. Jude project.
Give Control to the Viewer
Mattertags™ let the viewer choose what to see and when. The tags show up as pins throughout the 3D model, and the viewer can either skip over them or click on them to view the content. Look for similar options that put the viewer in charge of triggering layered content. This makes the additional content an enhancement to, not a distraction from, your core marketing piece.
Don't Repeat Yourself
Particularly in a marketing piece for a home, which does not need to be more than a few minutes long, there is no need to repeat layered content. Identify special features of a home or community once, on first appearance. Then move on.
Limit the Layers
Our St. Jude project is a good example of a three-layer project: the 3D model is the first layer, the Mattertag™ is the second, and the video within the Mattertag™ is the third. Imagine if we took it one step further and embedded photos within the videos. Confusing, right? Especially if the viewing area is small, two or three layers is usually enough.
Limit the Amount of Content
We scattered 45 Mattertags throughout the St. Jude Dream Home. To be honest, that was probably overkill, but we wanted to make sure that every participating sponsor got their due for supporting this worthy cause. In practice, it's better to be more conservative. Consider limiting yourself to two layered elements per room, or one element per photo. With video, it's best to have just one large element onscreen at a time, and to have some breathing space between graphics.
But Don't Be Stingy
It's also possible to underdo your presentation. If you're dealing with a 3D model of a house, aim for at least one layered element per major room. With video, include a graphic or other element every 30-60 seconds. Ask yourself what viewers will want to know more about and satisfy their hunger for data proactively.
What are your tips for included multi-layered media in your real estate marketing?