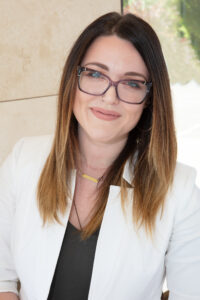 Meet Lacie Jones, Regional Account Representative of Real Estate Sales on the Seek Now / HouseLens team. She fearlessly shared her breast cancer story with us as a reminder for why we started our #TeamGreenGoesPink campaign in the first place. Lacie's story embodies the essence for why we raise our voices about breast cancer every year. Keep reading to follow along her journey of courage and resilience, discovering why breast cancer deserves our attention not only in October, but all year round.
"In 2018, I went to my normal, annual OBGYN appointment. I had been dealing with a rash that was really annoying, but I get eczema, so I debated bringing it up during my appointment. After some hesitation, I had my doctor take a look… I was immediately referred to a specialist." The specialist Lacie was referred to ordered a mammogram, but with Lacie's background in nursing, she knew to ask for an ultrasound along with the mammogram to ensure accuracy. "The biggest thing I advocate for young women when you're going through this is to ask for an ultrasound along with the mammogram if you qualify for one. I was only 30 at the time, and I knew I couldn't rely on a mammogram for results because breast tissue in young women is too dense; things can get missed." Sure enough, a mass and a couple of enlarged lymph nodes were discovered through the ultrasound.
Shortly after this discovery, she became pregnant with her son, Atlas. "The mass and lymph nodes hadn't gotten past the precancer stage, but I had planned to get a double mastectomy out of precaution – being this was my fifth cancer experience and also having family history of aggressive forms of breast cancer. Atlas changed the game plan. I held off from having surgery because breastfeeding is very important to me." However, with the onset of the pandemic, Lacie found herself waiting for the shutdown to pass. "I was making excuses not to go back in. Honestly, I was just hoping and praying it would all go away on its own."
Finally, in 2023, filled with concern over the persistent and relentless rash and other issues she had been battling for years, Lacie sought out a specialist at Vanderbilt. "At this point I've had multiple scans, ultrasounds, biopsies, steroid treatments and nothing was alleviating the persistent issues." Another round of a mammogram and ultrasound was ordered, just to be safe.
"I knew it wasn't a good sign when the radiology technician kept hovering the ultrasound wand over a specific area." They discovered yet another mass and more enlarged lymph nodes.
The specialist at Vanderbilt recommended she get a skin biopsy of the rash, at which point, Lacie finally got a diagnosis…breast cancer. "It was all very fast after that."
Lacie faced a difficult decision for her future treatment. Despite chemotherapy being an option, she chose against it. "Because we caught everything in the very early stages, my medical team let it be an option, but I chose not to because of how hard it is on your body and organs. I wasn't comfortable with that level of treatment." Moving forward, she must remain proactive by staying updated with regular scans and checkups.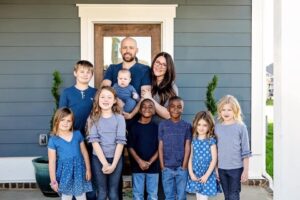 Despite the hardships she has faced, Lacie has a positive spirit about her. "I use humor to get through it." She hopes her story can inspire and support others. Her advice is clear: prioritize preventative care and advocate for yourself. "If you have any kind of family history or if you see or feel anything weird, you must advocate for yourself. If you have the instinct that something isn't normal, don't gaslight yourself. Get it checked by a doctor and if you're not comfortable talking to them about things like this, find a different doctor. Your medical team matters."
When it comes to #TeamGreenGoesPink, Lacie hopes that everyone involved understands its importance. "I don't want people to just wear pink in October, this is something I want people to think about all year round and if I have to be vulnerable and share my story, I will. If people think about me when they think about breast cancer, I'm fine with that. I don't mind being the face of that for them. I want people to get loud and advocate for this."
As an organization, we hope to make breast cancer a topic that never fades into silence by getting loud about it each year through our #TeamGreenGoesPink campaign. Our goal is to not only raise funds for our partner, the National Breast Cancer Foundation, but to amplify the message and advocate fiercely for this cause. Learn about our fundraiser and how you can be involved in supporting women like Lacie at seek-now.com/pink. Together, we can make a difference.