If you're looking to provide a unique perspective to any real estate property, drones can help you achieve this goal. With drone technology, you can provide real estate listing viewers with a view of the property in its entirety, including surrounding land, amenities, and any detached dwellings or structures on the property. Drone videography and photography is a great marketing tool for residential homes, commercial buildings, vacant land, and more. In this blog, you'll learn about drone use cases, see case studies, and learn how to implement this visual capture service in your real estate marketing with a focus on drone services to highlight your listing's amenities.
Drone Marketing Use Cases and How to Vividly Represent Amenities
Not only does drone technology intensify the elements of a real estate listing, it gives real estate agents a competitive edge, making their listings stand out amongst others in the same area or buyer's search range. Commercial real estate agents, investment firms, and development companies often use drone photography and videography for their real estate marketing to fully capture large developments that they're representing.
The most common amenities and features that a drone can capture in real estate are:
• Skylights
• Pools
• Outdoor kitchens
• Master suite balconies
• Decks
• Cul-de-sacs
• Golf courses
• City proximity and cityscapes
• Home construction materials such as wood, brick, metal roofs, etc.
• Style of home (A-frames, bungalows, colonial, etc.)
Check out this drone project we recently completed in Franklin, TN. Notice the capture of the pool and cul-de-sac, in the intro of the video walk-through, which became a major selling point for this property.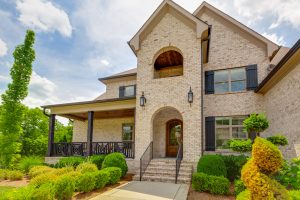 Whether it's a beautiful landscape or neighboring cityscape, it's important to show the surroundings of your listing to give the buyer a precise view of the property. There's no wonder why the real estate industry is the second-highest user of drone technology. Buyers want to be shown the full size and full picture of the property.
Drone Real Estate Case Studies
Whether it's large homes, commercial properties, or vacant land, it's important to partner with a drone expert who has well-rounded experience. When you need drone video or photos for your listing, you don't have time to wait. Most real estate drone experts can capture visuals and have edited content to you within a few days.
Check out these recent HouseLens drone projects:
How to Implement Drone Marketing for Your Listings
If you are ready to explore the potential that drone marketing can bring to your real estate marketing lineup, a HouseLens representative can reach out to you once you've completed this form.
When researching drone experts, it's important to make sure the drone pilot you choose is registered and insured, certified, and FAA approved. FAA-licensed pilots are not only insured and knowledgeable but also have more access to airspace. Something else to consider when looking for a drone professional is to hire someone local. Local drone experts can get to your location quickly and provide a fast turnaround for your drone video and photos. For example, our local drone Artists can be on-site and provide raw content to our editing team to provide a turnaround of 48 hours or less in most cases.
Have questions? Contact us at (888) 552-3851 or via email at CustomerService@HouseLens.com.