Marketing to waterfront buyers is not a one-size-fits-all approach. This is largely due to the fact that waterfront buyers are a specific type of buyer or a certain demographic who are usually searching for a very specific property. One of the best marketing tools that can be used to present waterfront properties in their entirety is drone video.
How exactly do you market a waterfront property? What do drones have to do with it? It's simple; waterfront properties are considered specialty real estate which requires positioning the property appropriately in a way that makes it appealing, flawless, and desirable. There's no better tool to accomplish these things than drone videography.
Things to Consider When Using Drone Video Marketing for Waterfront Properties
One of the most important things to consider when listing a waterfront property is that the buyer is not only looking for a specific style of property, but also a certain lifestyle. Living on or renting property on a waterfront comes with its perks. Many buyers in this demographic have an exact idea of what they want to make of their life in their waterfront property. For example, the buyer may want a peaceful, quiet area where they can enjoy time off. Others may want a community-like environment with plenty of neighbors and surrounding attractions.
Check out this commercial waterfront property project we recently completed for an agent in Maryland.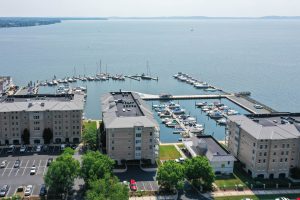 Drone and walk-through videos for waterfront properties allow the viewer to flow from one element to the next, unlike photos that require them to flip back and forth. If you're looking for stunning aerial footage, consider HouseLens' drone videography and photography for your next waterfront listing. Our editing team works in-house making our turnaround quicker than our competitors. See some of our past drone projects.
Have questions? Talk to a HouseLens team member today by calling us at (888) 552-3851 or email us at CustomerService@HouseLens.com.