Why Use Drone Photography and Videography for Real Estate Marketing
If you have ever listed a farm or any sort of underdeveloped land, you know the challenges that come with this type of property listing in comparison to a family home or commercial building. Large plots of land require a unique perspective to be attractive to buyers. The simplest thing that can be done to capture underdeveloped land, farms, and other large areas of real estate is to capture drone video and photos. Real Estate Agents report upwards of 35% more listing visits when using drone videography and photography in their real estate listings.
How Using Drone Videography Can Help Your Listing Get More Views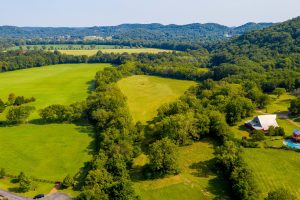 One of the easiest things you can do to make the most of your newly captured drone assets is to put them front and center of your real estate listing. Don't make your aerial footage and photos hard to find. Photos don't always tell the whole story, so be sure to prioritize your drone videos first and your drone photos second.
Be sure to share your drone marketing assets on your social media pages. You can use them as a "teaser" for your listing by sharing the video directly in a social media post and sharing the direct link to the listing in the post's copy or comment section. This will help the listing go a long way in terms of viewer reach.
Lastly, ask your friends and colleagues to share your listing. Once you have put the effort and resources into your listing, it's time to get it viewed. Using drones to create videos of underdeveloped land is the best way to give a full view of the listing. Video attracts more viewers than photos and data says that it's because viewers will spend more time watching videos than scrolling past photos. In an experiment by Biteable, a video and photo post were compared and it was determined that the video was seen by 25% more people, got 480% more clicks, and brought 270% more leads. The key takeaway here is that video is the King of content marketing. 
How to Find the Right Drone Team for Your Real Estate Needs
Some tips for hiring the right drone team for your next underdeveloped land or farm real estate listing:
Hire someone who captures and edits.
Hire a drone team that edits drone content. To end up with clean and listing-ready drone videography and photography, go with a team that edits. Take it a step further by asking if the drone team edits in-house, which is a huge plus. Why? Typically, in-house editing means the turnaround is days quicker than if editing has to be done by a third party. This is important because days of editing can mean losing the buyer you needed to view your listing.
Make sure they're FAA-licensed.
The Federal Aviation Administration is an operating mode of the U.S. Department of Transportation and provides the procedures and tools to help drone pilots get licensed and certified. This process ensures that drone pilots understand the regulations, operating requirements, and procedures for safely flying drones per the FAA website, powered by the United States Department of Transportation.
Have questions about how to successfully use drones to capture your underdeveloped land or farm listings? Contact us at (888) 552-3851 or via email at CustomerService@HouseLens.com.