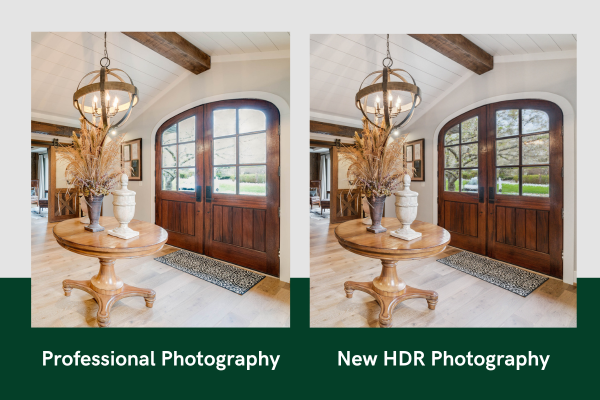 Real estate agents are constantly looking for ways to improve their marketing strategies and sell properties quickly. One tool that has increasingly gained popularity in the industry is HDR (High Dynamic Range) photography. HDR photography is the practice of capturing multiple exposures of the same image and blending them together to create a more complete and dynamic final product. In real estate, HDR photography can be used to showcase a property's best features and create a lasting first impression for potential buyers. Keep reading to learn why using HDR photography in real estate marketing is essential and how HouseLens, with our new and improved 5-bracket system, can help real estate agents sell more listings faster.
The Benefits of HDR Photography
HDR photography allows real estate agents to capture a property's true beauty and showcase it in a dynamic way. Traditional photography can often result in flat images that do not accurately represent the scene or convey its true beauty. HDR photography, on the other hand, allows for a wider range of colors and contrasts, producing an image that is more vibrant and eye-catching. Utilizing advanced image processing techniques, we seamlessly blend together various exposures of light, medium and dark to produce a truly unparalleled visual experience. Our ultimate goal? To present an image that captures every last detail and hue and showcase every exquisite detail of your home, allowing potential buyers to mentally envision themselves living in it. HDR photography can help agents grab potential buyers' attention and ultimately lead to a faster sale.
HouseLens' 5-Bracket System vs. the Standard 3-Bracket System
At HouseLens, we have recently expanded our HDR photography services to include a 5-bracket system as opposed to the standard 3-bracket system. With 5 HDR "Brackets" or separate photos, we are able to capture different exposure levels, even more detail, and the best parts of each photo to produce an even more dynamic final product. Our new HDR service will include:
Improved Color Balance, Brightness, and Contrast
Light Balancing (Highlights and Shadows)
Color Cast Reduction
Window View Enhancements (Recover)
Blue Sky Replacement for Exterior Photos
This extra level of detail can make all the difference in showcasing a property's best features and making it stand out in a crowded market.
HouseLens' Other Benefits for Real Estate Agents
In addition to our top-of-the-line HDR photography, HouseLens offers a variety of other services that can help real estate agents sell more listings faster. Our drone photography, floor plans, and 3D walkthroughs can help potential buyers visualize themselves in a space and make it easier for agents to showcase a property's assets. Our team of professional photographers and editors are dedicated to producing high-quality content that can make any listing stand out.
The Importance of Professional Photography in Real Estate
In today's digital age, the first impression of a property is often made online. With so many options available, it is essential for real estate agents to make their listings stand out from the competition. Professional photography and HDR photography specifically are powerful tools that can help agents make that initial impression and ultimately lead to a faster sale. Investing in these services is essential for any agent looking to succeed in today's fast-paced real estate market.
There is no denying the impact that high-quality photography can have on a real estate listing. HDR photography is a particularly powerful tool that can allow agents to showcase a property's best features and ultimately sell listings faster. At HouseLens, we are committed to providing top-of-the-line HDR photography services and delivering high-quality content that helps our clients succeed. We know that selling real estate is a competitive business, and we are here to give agents the tools they need to thrive. Contact us today to learn more about how we can help you with your HDR photography needs.