Having professional photos taken by a trusted photographer is essential for listings and real estate agents know that good photos are a must for getting their listings sold, but they don't have the time to do it themselves. There are many benefits to hiring a professional photographer, including having sharper and more vibrant images that help attract potential buyers. 
Professional photography can be an expensive and time-consuming process and some realtors can only afford to get professional pictures taken for the best homes in their portfolio. HouseLens is a service that provides high-quality professional real estate photography at prices anyone can afford. We provide you with beautiful images of your listing so you can sell more properties faster and keep your business moving forward. We offer everything from $120 basic photo packages to fully customized photo and video packages making us a great visual capture partner for agents of all backgrounds and tenure.    

Partnering with a Professional and Experienced Real Estate Photographer Matters More Than You Think
A professional photographer will be able to capture all the details of your listing, while still taking artistic shots that are aesthetically pleasing. Partnering with the right professional photographer for a real estate project is vital because the imagery is the number one feature of a listing that grabs and holds the attention of viewers. Whether a residential home or a commercial business, the listing photos make a big difference in listing web traffic. 
Experienced real estate photographers use their skills to pull forward the details that buyers are most interested in seeing. All HouseLens photo packages are edited in-house giving us the benefit of delivering photos fast.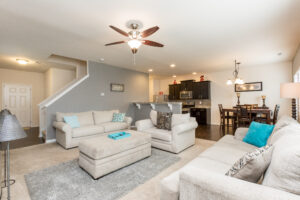 HouseLens is a premier real estate visual capture company that specializes in capturing the beauty and character of your property. We offer professional photographers and videographers, known as HouseLens Artists, to help you showcase your listings online, but we also provide quick and effective marketing solutions for agents through our proprietary scheduling portal, an in-house editing team, and 24-hour turnaround. If you're ready to take the next step in growing your business by partnering with professionals who understand what it takes to drive more viewers, book a discovery call today by calling (800) 973-3407, or contact us here.